News
   St. John's U.C.C. Community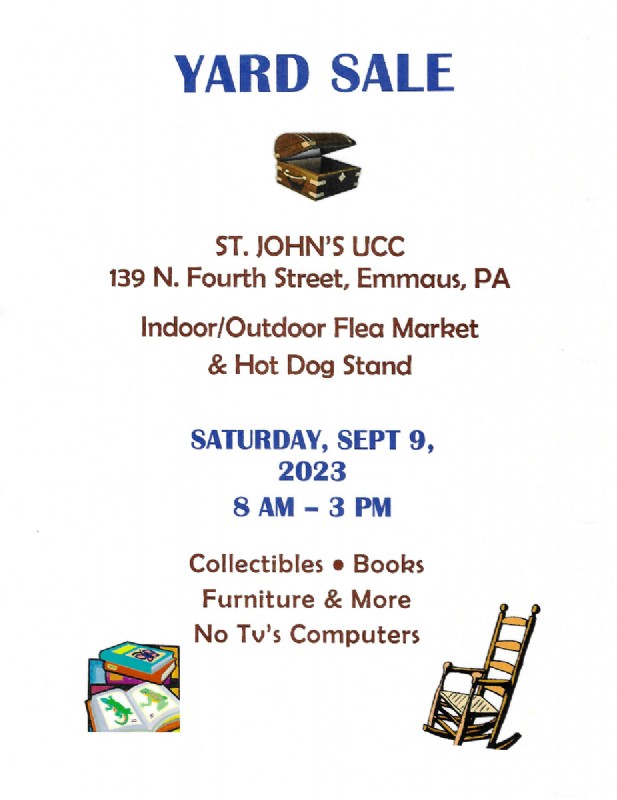 ___________________________________________________________________
St. John's donates bench
     A bench made of recycled materials has been installed in an environmentally appropriate spot, overlooking a pond along the paved Rodale walking trail off South 10th Street in Emmaus. 
     The bench has been donated to the new Chestnut Ridge at Rodale senior living apartment complex by St. John's United Church of Christ in Emmaus.
     The congregation of St. John's was awarded the bench by the Trex company for collecting more than 500 pounds of plastic bags and other recyclable "soft plastic" within six months.
     It has been given to Chestnut Ridge because the complex of 126 luxury apartments is part of Phoebe Ministries. 
   "We wanted to donate our efforts to a U.C.C. ministry," explained Dr. Paul Knappenberger, pastor of the church at 139 N. 4th St. "Phoebe has a 120-year history with the United Church of Christ."
      The nearly one-mile-long Rodale walking trail is part of the new apartment development, which is nearing completion. The trail will remain open to the public as well as Chestnut Ridge residents.
     "We are so grateful to St. John's UCC for this generous donation," said Karen Sinkovits, independent living manager at Chestnut Ridge. 
    "This bench will provide an opportunity for all to enjoy a moment of quiet reflection within this beautiful setting in the heart of Emmaus."
   An inscribed plaque on the bench states: "Donated by St. John's U.C.C." 
     That plaque was inscribed and donated to the church by Donna Marks, owner of Emmaus Jewel Shop on the Triangle. 
      It is the second bench St. John's has earned from the NexTrex community recycling program. The first bench is being used by the congregation, which plans to collect another 500 pounds of plastic in the next six months — and earn a third bench from Trex. 
      Part of St. John's mission is to become a green church, one working to protect the environment. "God calls us to be good stewards of God's creation," explained Dr. Knappenberger.
     It takes 40,500 plastic bags to reach 500 pounds, according to Trex, which is the world's largest manufacturer of wood-alternative decking, railings and other outdoor products.
    After the plastic collected by St. John's was weighed and reported to Trex each month, it was taken to the Weis Market in Emmaus, then shipped to Trex for reuse.
     The Chestnut Ridge apartment complex is at 400 S. 10th St., opposite Furnace Dam Park.   The walking path is next to the complex and part of the same property.
      At least 97 of the 126 one-and two-bedroom apartments already have been rented. The first residents are expected to move in within a few months.
    Dr. Knappenberger had given a prayer during groundbreaking ceremonies for the new development.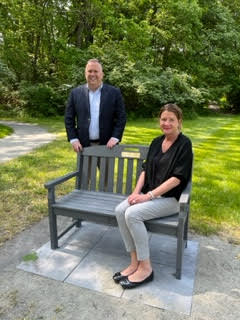 Dr. Paul Knappenberger of St. John's and Karen Sinkovits of Chestnut Ridge at Rodale check out the location of the bench the church has donated to the new senior apartment complex in Emmaus. 
TREX MISSION ANNOUNCEMENT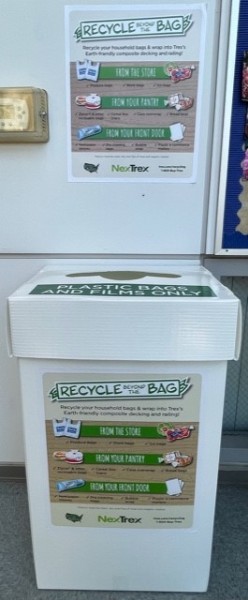 MISSION ACCOMPLISHED
  The People of St. John's have recycled more than 1,000 pounds of plastic.
  As you know, we collected more than 500 pounds of shopping bags and other soft plastic materials in just four months during 2022. For collecting that much, we received a free bench from Trex - the company that recycles the plastic.
  Because we continued collecting bags even after we reached that goal, we already have surpassed our second goal of collecting another 500 pounds.
  Trex donates one free bench every six months if at least 500 pounds of plastic are collected.
  We reached 512 pounds on January 17th.
  The missions committee is grateful to the members of our congregation for their support and encourage everyone to keep recycling plastic.
  But rather than continuing to bring bags to the church each week, the committee asks you to now take them to local stores that participate in recycling. They include Giant, Kohl's, Redner's, Wegman's and Weis.
  The missions committee will decide if St. John's will initiate a third NexTrex recycling challenge in June, when we again can sign up.
  Please keep recycling!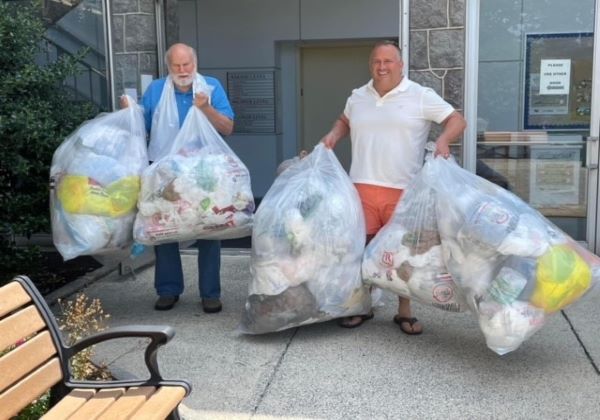 "You shall not defile the land in which you live, in which I also dwell…." —Numbers 35:34
      The congregation of St. John's is embarking on a very different mission. 
      This one allows us all to do a small part to help our world, as part of   
      Pastor Paul's desire for St. John's take on some environmental missions.
      Simply put, we want your plastic grocery bags.   And more!
      We're asking the congregation to routinely bring plastic bags and other
      "soft" plastic film products to the church every week, and deposit them in
      recycling bins that have been set up inside the atrium and narthex.
      St. John's is participating in the NexTrex Plastic Film Recycling
          Challenge. 
      Trex calls itself the world's largest manufacturer of wood alternative decking, railings and other outdoor living products, all created from a composite of reclaimed wood, sawdust and recycled plastic.  Ninety-five percent of the materials in its products are recycled. 
    The company is one of the nation's largest recyclers of polyethylene plastic. The material collected at St. John's eventually will be shipped to a Trex manufacturing plant in the United States. 
      The recycling challenge began on June 12. If we can collect at least 500 pounds —or about 40,500 plastic bags — in six months, the church will receive a free Trex bench.  But even if we don't reach that goal, we will be doing a good thing to help the environment.
       We will provide the congregation with monthly updates on our progress. We even have a third recycling bin if we need it.
       In addition to bags from stores, other acceptable plastic recyclables include:
          •        Bread bags
          •        Produce bags
          •        Bubble wrap and air pillows
          •        Dry cleaning bags
          •        Newspaper sleeves
          •         Ice bags
          •         Plastic shipping envelopes
          •         Ziplock and other closable food storage bags
          •         Plastic cereal box bags
          •        Water case overwrap
          •        Plastic wrapping around packages of paper towels, diapers and
                         toilet paper
          •         Furniture and electronic wrap
          •        Salt bags
          •        Pallet wrap 
          •        Wood pellet bags 
    Any packaging labelled with a "2" or "4" can be recycled, as can any packaging that stretches when you pull it.  Plastic water bottles and other hard plastic CANNOT be recycled. That includes any plastic that is shiny or makes a "crinkly, crunchy sound" when you handle it.
     All plastic must be clean and dry. Nothing contaminated by liquids or food can be recycled. And sales slips must be removed from plastic bags.
    In addition to plastic bottles, here are other plastic items that are NOT acceptable for the church recycling program: 
          •        Frozen food bags
          •        Candy bar wrappers 
          •        Chip bags
          •        Net or mesh produce bags
          •        Pre-washed salad mix bags
          •        Meat wrap packaging
          •        Six pack rings
          •        Pet food bags
          •        Mulch or soil bags
          •        PPE — gloves, masks or protective wear
          •        Pool covers
          •        Silage and hay bags
          •        Vinyl shower curtains or tablecloths
          •        Bedding or linen packaging
The church's mission committee thanks former Consistory President Don Kaufman for suggesting this NexTrex recycling challenge